Where every child is an individual
Helping you to make the right choice for your child.
Our full day nursery is registered for 24 children, aged 0-5 years. We have a well established and experienced team of staff who are fully trained and many of which have children of their own.
We pride ourselves on high quality care and education, tailored to each and every individual child in our care. We have an excellent local reputation and often welcome many members of the same family!
We believe that bringing your child to Bush Babies gives them the best possible start - we aim to provide them with solid foundations to develop socially, mentally and physically, and to equip them with the skills needed to begin at their chosen school.
Our Aims:
Our aim is to offer a secure and safe learning environment for children between the ages of six weeks and five years. We believe in supporting children and their carers by providing an extension of their family life in what we hope feels like a 'home from home' environment. We achieve our aims through:
A team of long term, caring qualified staff who take regular and relevant training updates
A varied and well planned curriculum both indoors and out
A hands-on approach to life experiences and day to day activities
By treating each child as an individual, tailoring learning to specific needs and allowing the same opportunities for all
By complying with all day care standards set by OFSTED
Free Early Education and care for 2, 3 and 4 year olds
We are a registered provider of Government funded places for all 3 year olds

Two year funding and is available for 

fifteen hours per week to all children over the age of two meeting the G

overment criteria.

All 3 and 4 year old children are entitled to 15 hours of early education and care each week for 38 weeks a year
30 hrs free child care for 3 and 4 year olds is also available for working parents meeting the Goverment criteria over 38 weeks per year.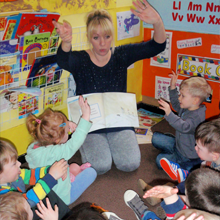 Please feel free to come and speak to our team or visit our nursery and we'll happily show you around. Learn More