Keeping your child active, healthy and learning
Each child is different. This is why we treat all of them as individuals and allow them to develop at their own pace.
We strive to make each child feel as comfortable and relaxed as possible whilst at our nursery. Our dedicated, friendly staff are on hand at all times to ensure that every child receives the individual care and attention they need.
Within the baby room we have two nursery nurses who play with, care for, stimulate and offer security to the children within their care. The baby room revolved around sensory play and experiences, and we encourage the use of different senses through treasure baskets, water play, music and movement to name a few.
The largest area of our nursery is for children aged two to five years of age. This area encompasses a messy play area for creative and wet activities and our main room where children are encouraged to explore activities and areas that follow individual lines of interest.
The third area is our large outdoor play area to the rear of the building. In September 2009, we were selected by the local council to become a centre of good practice and asked to join the personal, social and emotional development outdoors project. Through this, we developed our outdoor area and the resources that we offer to enhance the children's play and development.
We focus on development in all areas of learning:
The following are areas of Development within the Early Years Foundation Stage Curriculum, which we abide by:
Personal, Social & Emotional Development: Self-confidence and self-awareness, managing feeling and behaviour, making relationships
Physical Development: Moving and handling, health and self-care
Communication & Language: Listening and attention, understanding, speaking
Literacy: Reading and writing
Mathematics: Numbers, shapes, space and measures
Understanding the World: People and communities, the World, technology
Expressive Arts & Design: Exploring and using media and materials, being imaginative
We offer a fun and varied activities programme:
Adult learning activities
Activities based around our book of the week
Sensory and messy play
loose parts play
Free play and exploration
imaginary play
Day trips and outings
Seasonal events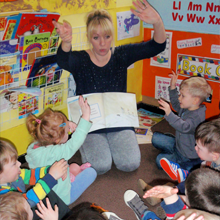 Please feel free to come and speak to our team or visit our nursery and we'll happily show you around. Learn More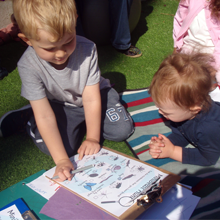 Each child is different. This is why we treat all of them as individuals and allow them to develop at their own pace. Learn More